Finish Time — 5:07:43
Average Pace — 11:44 per mile
Paces Taken — 51,576
See below for the day's pictures
Day 1 of Brathay 10-in-10 started for me today at 6:30am, with the BodyRehab team taking baseline measurements for posture and balance, which involved functional squats, one-legged squats, overall balance and posture photography. They will be taking these same measurements morning and evening throughout the 10-in-10, which enables us to be very precise and scientific about how our bodies are suffering!
After sorting out my fuelling logistics for the day (gels, bars, shot blocks), a hearty breakfast was in order before the "media start" at 10am. The highlight was the Brathay gamekeeper complete with tweeds and deerstalker, firing his shotgun to sound the off. After dashing across the lawn for the cameras, we headed down to the road for the real start.
I'm not going to write a long race report. Suffice it to say that Windermere fully deserves its reputation of being one of the hardest road marathons in the UK.
Contrary to what one might expect, the course does not hug the lake shore. The total elevation gain and loss is about 2,000ft, which comes from a seemingly unending series of climbs and descents as you crest every single spur and shoulder that drops from the Lakeland fells down to Windermere.
Curiously the second half of the course feels much more difficult, even though the elevation gain is only 800ft (as compared to 1,200ft on the first half). The hills between Fell Foot and Bowness seem to go on forever. In fact, after a while even the downhill stretches begin to feel as if you're climbing…
As a result I struggled from miles 16 to 22, but before and after this stretch I was in control and very much enjoyed the run. Because of that tough stretch I missed my goal of a 5-hour finish. My objective over the next few days will be to eat and sleep as much as possible, to avoid that mid-race burnout.
The afternoon and evening has been a bit of a blur… today's run has put me in that zone where time doesn't seem very important, and psychologically I am already preparing for tomorrow's marathon.
Of course before signing off I want to thank BodyRehab and their magic hands… And I have to say that I am looking forward to the ice bath again tomorrow! 10 minutes in a bubbling jacuzzi at 3.7 degrees centigrade will do wonders to get the legs ready to hit the road again…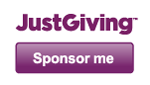 Please remember though, that I am not running for fun. I am trying to raise £5,000 to support Brathay Trust and the work they do with some of the most vulnerable and under-privileged young people in the country.
If you have a few pounds or dollars to spare, your contribution would be welcome at my fund-raising page, www.justgiving.com/robruns10in10. Thank you for your generosity and support!