One month? Really?? Yes, one month to go.
Just 30 days from now I will be settling into Race HQ at Brathay House near Ambleside. Running the last checks on my kit, loading up on carbs and protein, settling down for a good night's sleep, and bracing myself for Day 1 of the Brathay 10-in-10, edition of 2012!
It is very, very hard to believe that nine months have gone by since I learned that my application for the event had been accepted. I know that time seems to pass quicker as we get older, but really? Nine months already??
Lots of people ask me "How's your training going?", and my answer at the moment is some variation of "slowly" or "backwards" or "with difficulty". The fact is that life gets in the way. Between work, business travel, house moves and other major life events, it's hard to make time for the mileage that I should be clocking right now.
My greatest fear at the moment is that I'll just blow a gasket on day 6 or 7. Everything I do in the next few weeks will be designed to prevent this from happening.
Theoretically I am in good shape for the challenge, titanic though it may be. Two months ago I completed the Enigma Quadzilla in relatively good shape. That's four marathons in four days… and several people have told me that this is a good indication of one's ability to make it through the 10-in-10.
Unfortunately, since then my running mileage has dropped off. I've packed on a few unnecessary pounds, and right now I am champing at the bit after 10 days of enforced rest due to an annoying lung-lurking lurgy…
My plan now is to cover about 150 miles in the remaining month before the event, including (if possible) a 10-day series of back-to-back runs.
So there we are. The master training plan comes down to these last 30 nerve-wracking, adrenaline-charged days!
In a way I welcome the arrival of Day 1 of the event. It will be a huge release. For 10 days I will be able to focus 100% on my running and on my body.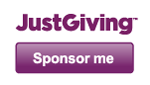 On the fund-raising front the challenge is just as big.
My whole reason for attempting this crazy challenge is to raise £5,000 for Brathay Trust, which helps disadvantaged young people by equipping them to take charge of their own lives.
Many of you will have received messages from me already, asking you to help me accomplish this goal. I want to say a heartfelt "thank you" to those who have donated. Please help me again, if you will, by telling your friends about my challenge…
To those who may wonder why I am doing this, I encourage you to visit www.brathay.org.uk, where you will find stories of the vulnerable young people who have been helped by this amazing foundation. If you are not moved to run 262 miles for them I will understand. But if you can dip into your pocket and contribute the equivalent of a latte or two that would be great!